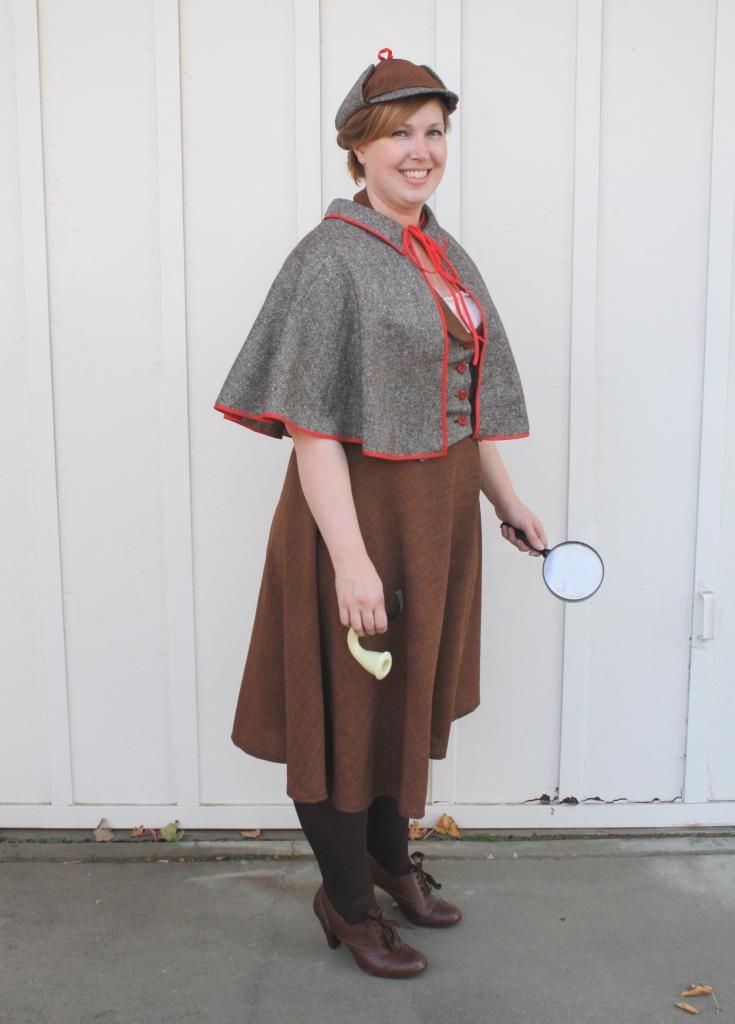 I'm so excited to finally share my Halloween costume with you all! I spent the last few weekends working on it, and in my typical fashion, I was putting the finishing touches on right up until the night before Halloween!
I told myself last Halloween, after wearing my
cowgirl costume
for the second time in a row (after three years of not dressing up at all while I was in Tonga), that I would make myself a new costume this year, so I really felt like I needed to rise to the occasion this time. I debated for a while on what to be before finally deciding on Sherlock Holmes, one of my favorite literary characters. I decided to be a lady version of him, because while I'm by no means the skimpy, sexy costume-wearing type, I still didn't want to dress up as a man! I decided to make sort of a lady version of him, and I added little pops of red with the buttons and bias tape to make it all a little bit more cute than the typical Sherlock outfit.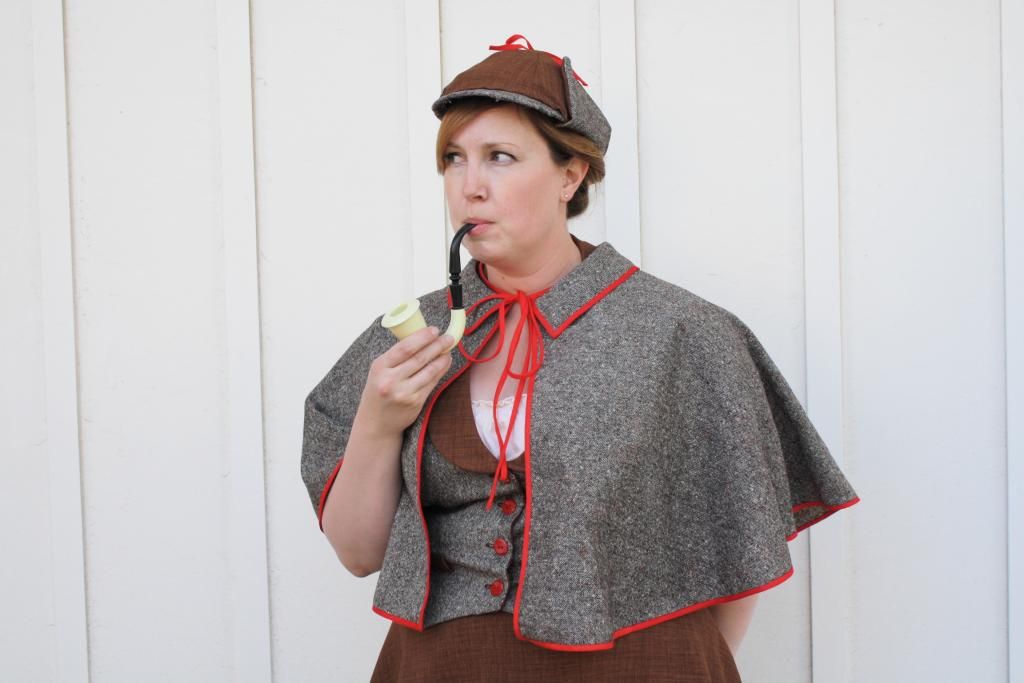 I was able to make this project pretty cheaply, which was great! I used fabric that I already had in my stash. I picked up the wool tweed at a garage sale for a few bucks and the brown fabric (some kind of synthetic blend, I think) was a thrift store buy. I think I spent 90 cents on each of the ballcaps for the deerstalker hat at the thrift store, and the red bias tape and buttons were in my stash. I had the skirt pattern already and I bought the vest pattern at thrift store for 25 cents. The most expensive parts of the costume by far were the shoes, which I got at
Payless Shoes
($26) the tights ($4) from Walmart, and the pipe ($8) and magnifying glass ($9) from the Halloween store. The shirt is one I already had in my wardrobe.
I kind of used
this tutorial
from Martha Stewart to make the cape and the hat, though I ended up shortening the cape, drafting my own collar, and making a much more complicated hat. I did use their idea of combining two ball caps together to create the deerstalker hat (genius!). I made earflaps, and a cover for the top, and it's all held together with copious amounts of Quick-Dry Tacky Glue. It's not perfect, but it pretty much looks right and at least it matches the rest of the outfit.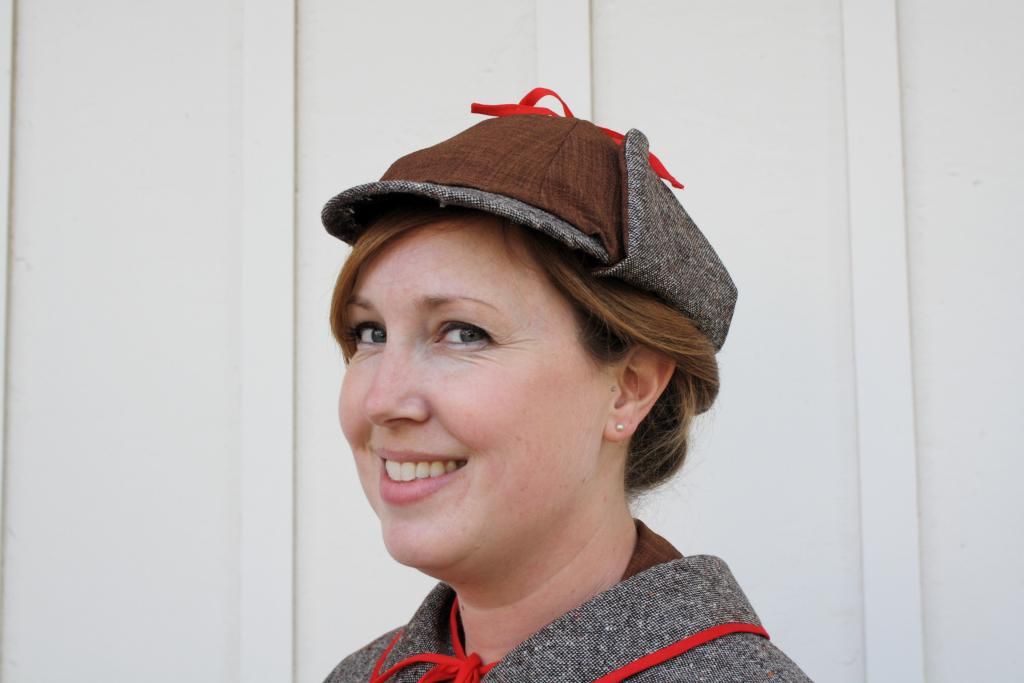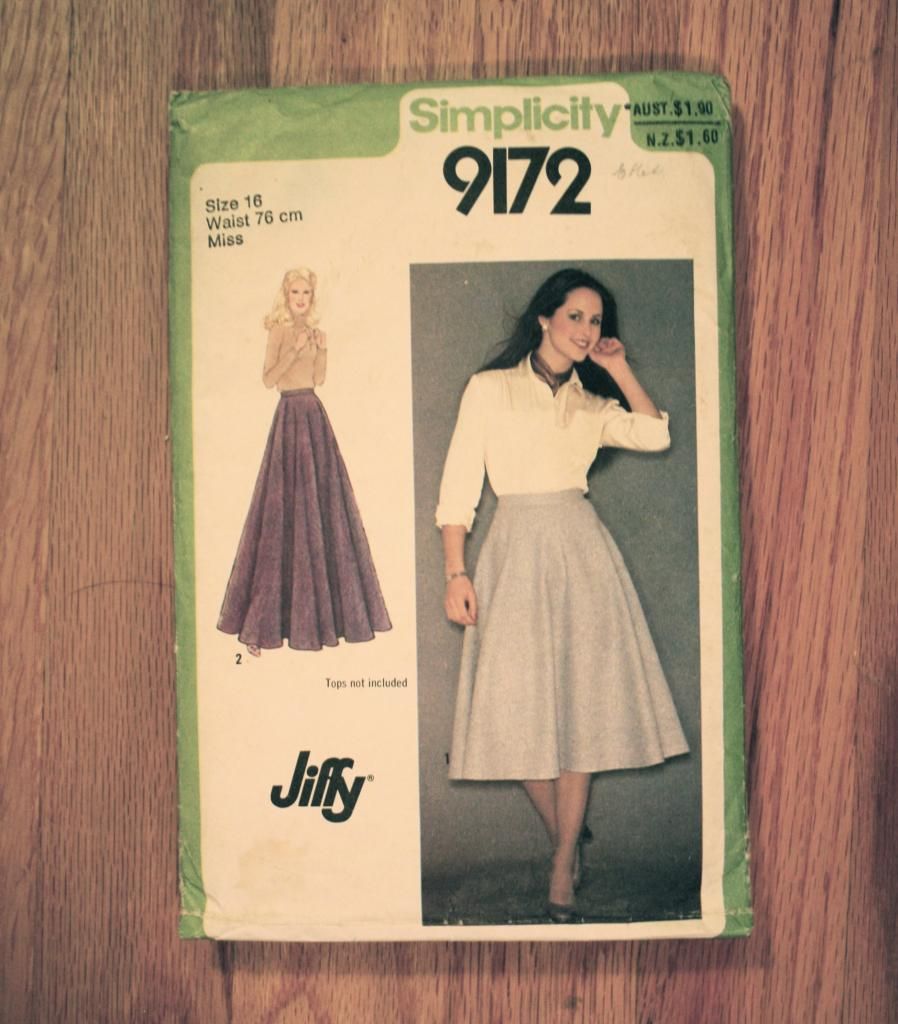 I used this pattern for the skirt, Simplicity 9172, the same one I used for
this skirt
I made a year or so ago. I got it in Tonga, actually, (which is why it has prices listed in Aust/NZ dollars). It's a really flattering shape and super simple to make up. I decided I really need to make a few more versions for everyday wear this winter!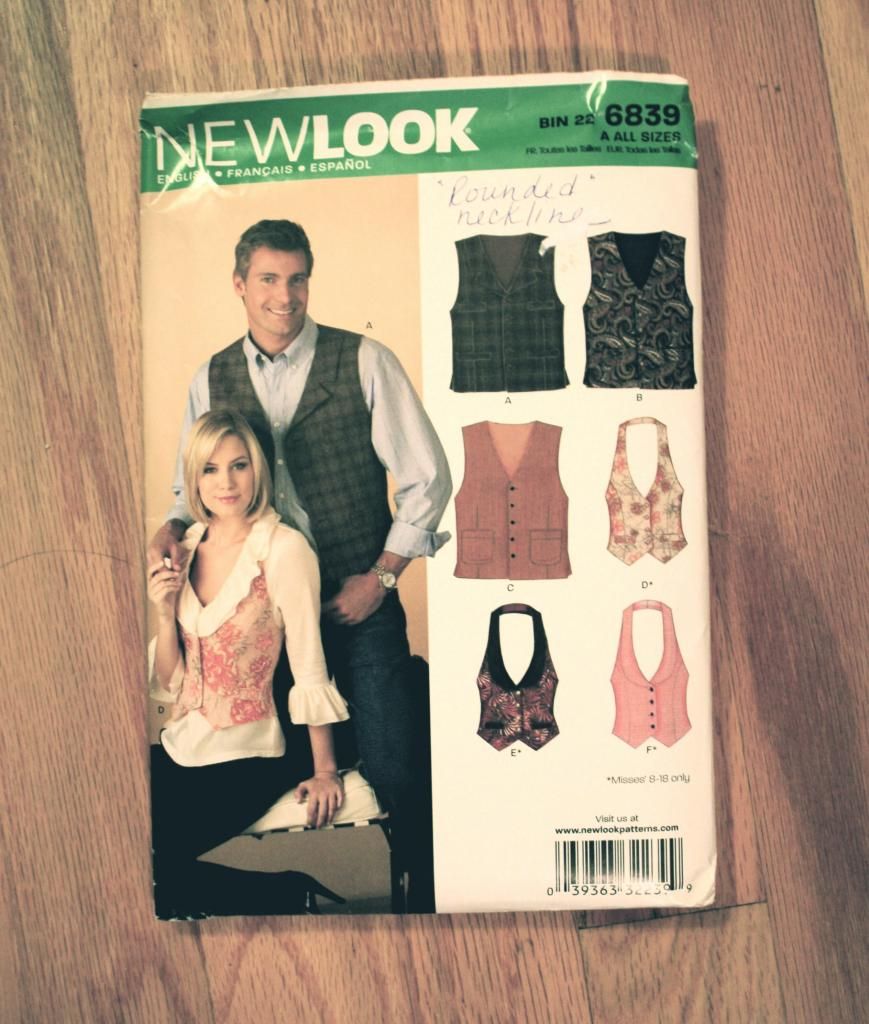 I made the vest with this pattern, New Look 6839, which I found a thrift store. I had actually already bought another vest pattern to use that I wasn't crazy about, but which only cost $1 at JoAnn's, when I came across this one while thrifting. I liked the way this one came in a more feminine version which also had a collar. Luckily for me, this pattern was uncut, and it was pretty straightforward to sew. I think it ended up fitting in really well with the costume too!
I wore this costume all day on Halloween (we all dress up and have a party at the day program I work at), though with more practical shoes. It was pretty comfortable, though the wool was a little itchy on my arms after a few hours. I kept it on while we handed out candy to the trick-or-treaters at our house. It was fun and we ended up giving out all of our candy! We finally had to turn the lights off so we didn't have to disappoint the kids. I was going to wear it for our party on Friday, but that got cancelled at the last minute. Kind of a bummer, but Phillip and I still had fun watching movies and relaxing. How was your Haloween? Did any of you make your own costume? I'd love to see them if you'd leave a link in the comments!