Hi friends! I wanted to (finally) share a little bit about my Christmas this year. It was awesome, of course, but it was a bit hectic. Between mine and Phillip's families we had six different events to attend! I had to head back to work the next day too, so it was nice to finally relax a little bit by the time the following weekend rolled around.
I decided once again to hand-make several gifts. Every year I think I'm going to hand-make every last one of them but it never does end up happening. Anyway, this year I made a couple of loom-knit infinity scarves for my sister and cousin. For those of you who are a but knitting-challenged like me, it's a really quick and easy project and it yields a nice, warm scarf for winter. I also made flannel PJs for Phillip and his mom (and a pair for myself too), and a tote bag for Phillip's stepmom. As far as I can tell they seemed to like them. I also made a couple of succulent arrangements for mine and Phillip's moms with some little ceramic birds. I never did snap a photo of them-sorry!
One of my very favorite parts of Christmas time is decorating for it. I get really excited pulling all of the decorations out of their boxes each year and especially putting up the tree. I had a hard time waiting until the day after Thanksgiving! Here are some of my favorite decorations around the house. You can see our big plastic Santa head in the first photo. He took a place of honor above the fireplace along with a big sparkly bow that made him look a little like Colonel Sanders.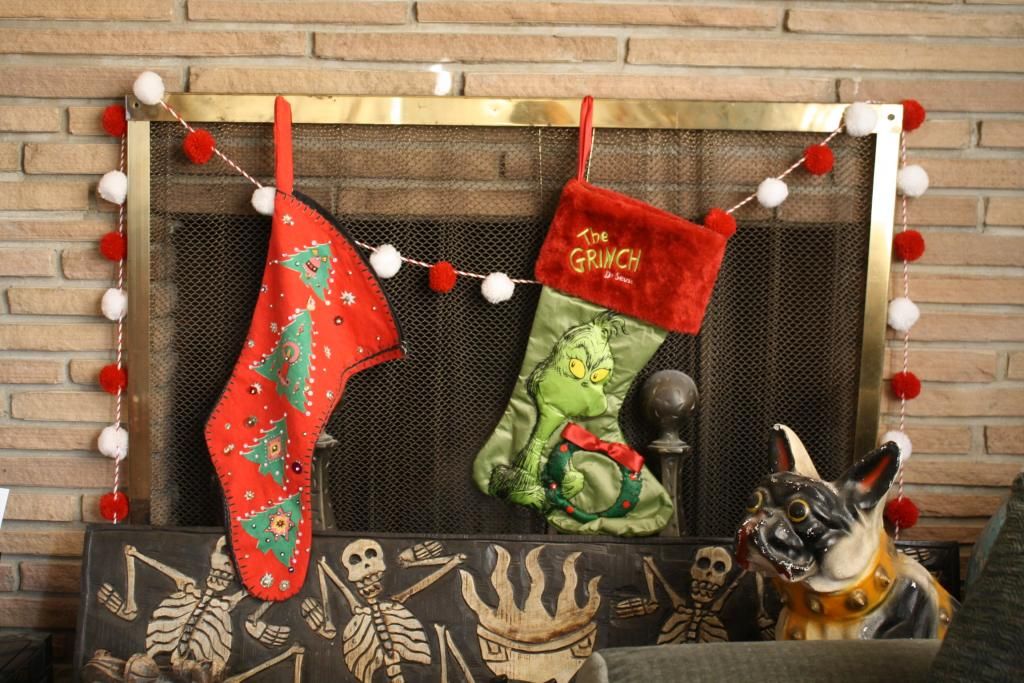 Here are our stockings hung on the fireplace. One of my goals for next Christmas is to make us both new personalized stockings.
Our tree had some unfortunate battles with the cats this year but still hung in there. We came home from our trip to Disneyland to find the cats had pulled the tree to the ground (hitting the TV console on the way). We had thought it would be enough to take down the ornaments on the bottom half of the tree, but we were obviously wrong. (The cats were thereafter locked in the hall at night and when were weren't home). They broke some really nice vintage ornaments, but I did manage to forgive them, eventually! Here's the tree on Christmas Eve, loaded up with gifts.
Our vintage Christmas stuff got to take over the shelf. I think I might need to thin out the collection a bit next year!
This is a little print that Phillip made me of the cats as "Mary Poppins" characters. It's an inside joke- we started referring to Ruby as "Ruby Chubbins" as she got older and developed her post-spay chubby cat belly. It's adorable and I really love it.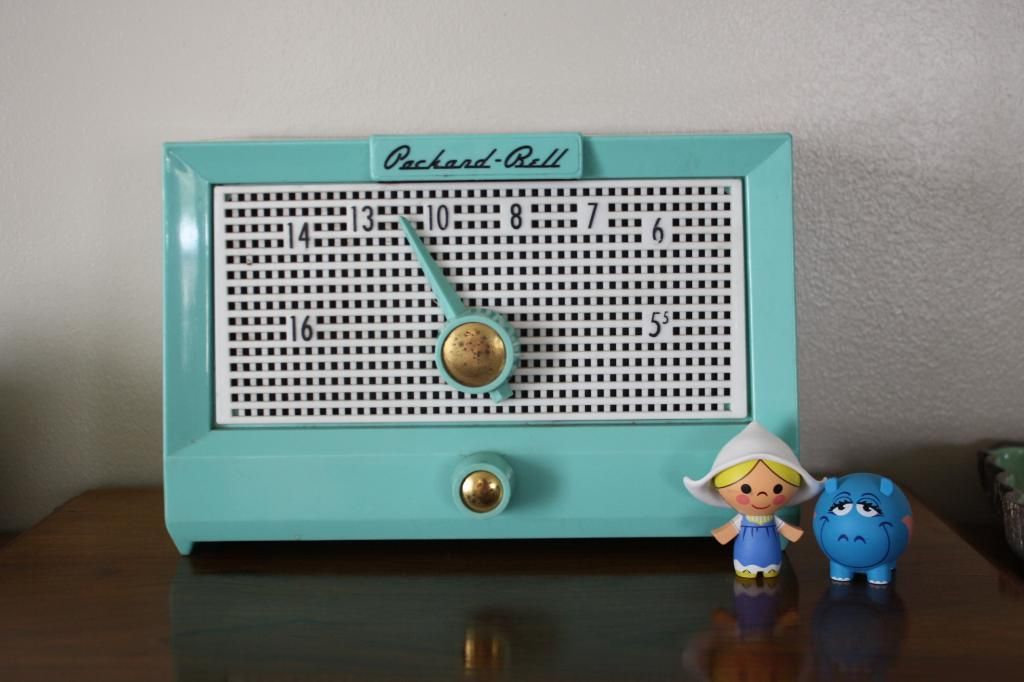 He also got me this great radio that I saw in an antique shop. It doesn't actually work, but I'm not in a huge hurry to fix it- I think it's just fine right now as a decorator piece. Phillip's brother got me these little Vinylmation Small World figurines in the corner.
My parents got me this little telephone chair. I love it, especially with the rotary phone sitting on it and this pillow I made. It has now replaced the blue high-backed chair in the corner of the dining room and I think it's a great improvement.
Phillip also found me a small bowl to go with my large Balloon Pyrex bowl! All I need now is the little metal piece that fits them together. If anyone has one to sell let me know! (It
looks like this,
for reference)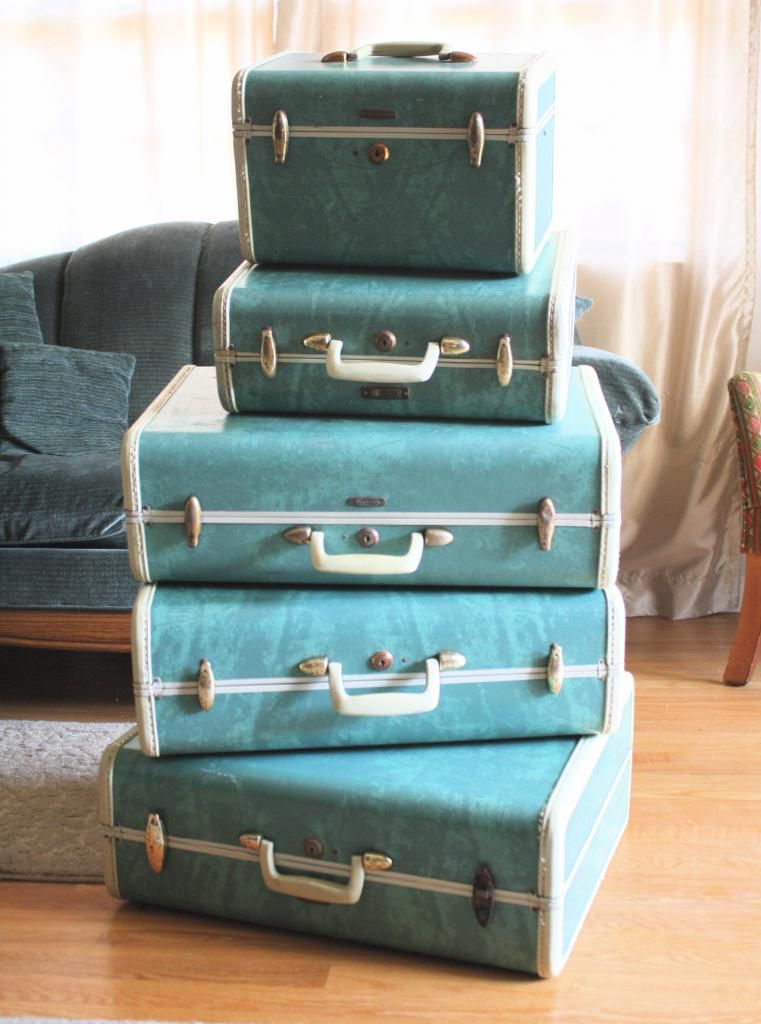 Phillip also managed to find the complete set of my favorite suitcases! You may remember we found two at a thrift store awhile back. We may sell a couple of the extras and I have plans to use the rest of them in upcoming craft fair displays.
My friend
Danielle
got me this cool Better Homes and Gardens magazine from 1959. I'll share some of the amazing ads soon! She also gave me this dish and this felt heart patch (?). I think I'll have to use in in the wedding somehow. Any ideas?
I'm so grateful to my amazing friends and family- thank you all for making Christmas so special! I hope you all had an equally wonderful Christmas this year.