The week before last, I had the pleasure of selling my handmade goodies at the
Stitch Market
, a really cool local craft market, held twice per year in San Luis Obispo, CA.
I was so excited to be a part of this event, because it's one of the few more "modern style" craft fairs in my area. I was nervous about having a less-than-stellar booth and so I worked really hard to make lots of new items and displays in the days and weeks leading up to the fair. Since my shop is still pretty new, I'm still working to create a cohesive brand through my display and color scheme.
The day of the market, when we went to set up I was so blown away by the gorgeousness of the other vendor's displays- they were so creative and well-done! That, along with amazing products, really made for a beautiful and more high-end craft market that I was proud to be a part of! (I'll be posting pictures of the rest of the market later this week)
Anyway, here's a little peek at my how my booth turned out, in all of it's pastel glory:
I really stocked up on fabric and leather bows, and I'm happy to say they had thinned out a lot by the end of the market. They're so fun and quick to make. I found the bird cage at a thrift store for $2, and I decided to spray paint it pink and black to match my color scheme. I wasn't sure how I was going to use it in the display, and I ended up sticking some bows on it. I still might use it to display something else though- any ideas?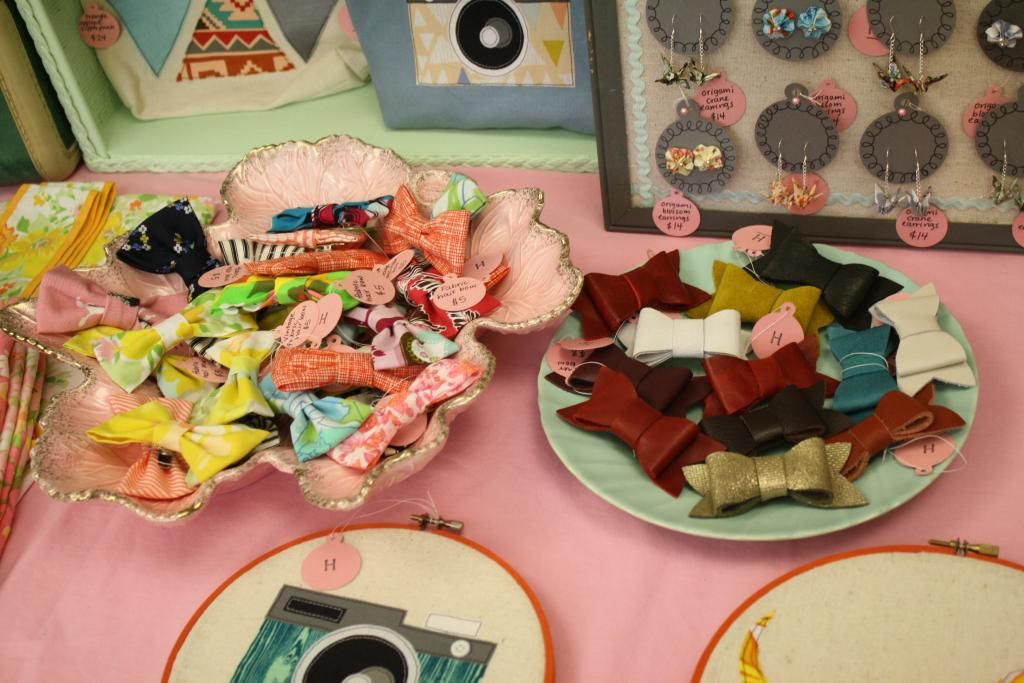 At the last minute, I made some appliqued pillows to try out. I sold one and I'm in the process of getting the rest of them listed in my
Etsy shop
. My set of teal suitcases really came in handy as a pillow display!
Though I made sure to stock up, I only sold a few pieces of my origami jewelry, which surprised me because it was a good seller at the Halcyon Fair. I did sell a number of my leather bow necklaces though! Do you like my business card holder? It's the cute dachshund that Phillip bought me from the thrift store. and I used the little shelves (which I blogged about
here
) for my zipper bags.
I made lots of my hoops in a variety of patterns, just sort of experimenting to see if they would sell. My California/Central Coast hoops were by far the most popular- I sold all but one of them! I'm currently working on re-stocking them and getting some other colors and prints into the Etsy shop. I displayed them on the large cork board I covered in
this post
. I loved how cute they looked all together!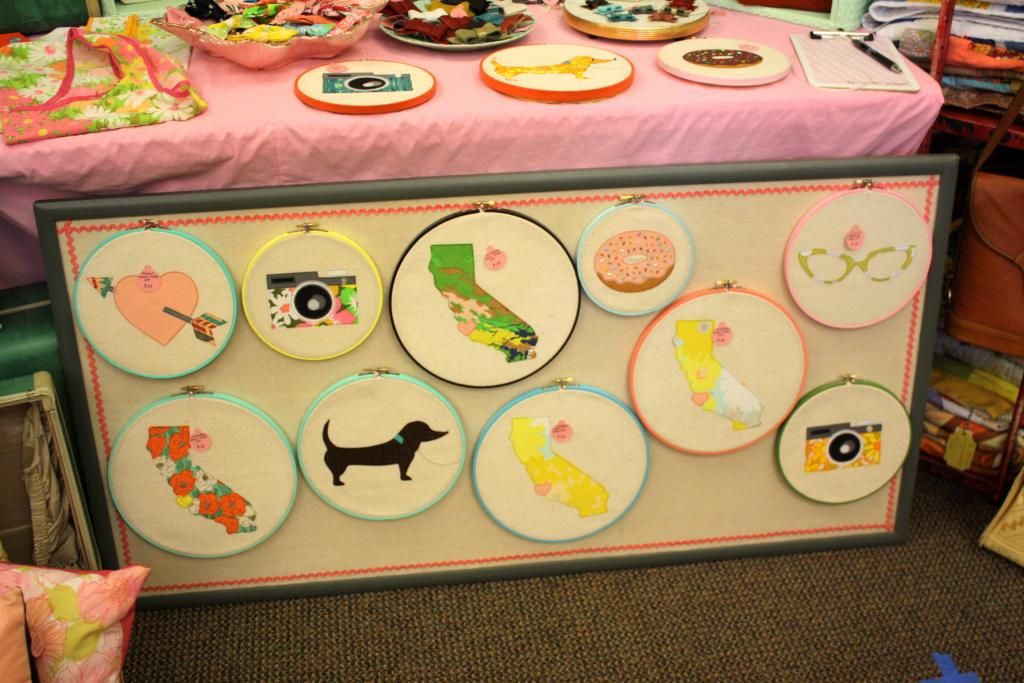 The size requirement for the Stitch Market was much more limited than the previous fair I participated in, so I had to get creative with using the 4 by 6 foot space. My dad kindly helped me build this PVC pipe frame to hang my tote bags and banner and to use as a backdrop. I spray painted it silver and then I found some S-hook shower curtain rods that fit on it so I could hang my tote bags. I made the gray backdrop from a thrifted bed sheet and the fitted table cover from yet another thrifted sheet, which I decided to dye pink at the last minute!
Lots of effort went into a brand-new banner, which I plan to use at many future craft fairs. I ordered this pink and white fabric online, which I lightly dyed with petal pink RIT dye to get a pink-on-pink shade, cut at and angle, and backed with a heavy fusible interfacing. Phillip helped me print a large version of the logo, and I traced each element with Wonder-Under and then fused it to black, white, pink, and green fabrics. I embroidered the lines on the flower, which was quite difficult due to the multiple layers, but it was worth the sore fingers! I edged it with a thick bias tape and added ribbon velcro tabs.
So, what do you think of my booth? Any suggestions for improvements? Are any of you selling at any craft markets this year? I'd love to see your booths too!
Stay tuned later this week for another Stitch Market post featuring the rest of the vendors and their amazing booths!